Flu Zapper
The flu zapper is a device that in some way affects the flu or flu virus thereby helping to reduce the symptoms or possibly stop the progression of the flu.


The flu can be an illness that has serious consequences and can lead to other illness that can result in death, such as pneumonia. Certain individuals, especially those who are immune impaired or who have a weakened immune system, are more succeptible.

For that reason, some of those individuals may chose to take extroidinary action such as using alternative therapies such as taking elderberry or even using certain water purification devices as a flu zapper in an "off-label" manner.

Validation: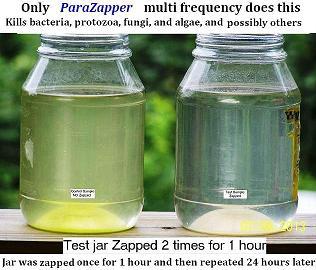 Additional information can be found in the menu at http://paradevices.com

Please visit Clark Zapper to see our products.

The flu zapper is worth investigating due to the many who have felt positive results from using it "off-label" to help alleviate problems associated with the flu or influenza like feelings. A very high percentage of flu zapper users report very good success with stoping influenza symptoms and eliminating cold symptoms. While this is only anecdotal, it certainly does point out a need for testing and investigating the flu zapper as an anti-viral device.

One group in particular that leans towards relying on these types of devices is the HIV community as well as others with immune deficiencies.

See: Flu Zapper to see more information.

Notice: On advice of counsel, we are required to inform you that the statements and claims on our web site have not been evaluated by the Food and Drug Administration and are not intended to diagnose, treat, cure or prevent any disease -- not for use on humans or with pets. These battery powered devices are not offered or intended for human use or to diagnose or prescribe for medical or psychological conditions nor to claim to prevent, treat, mitigate or cure any conditions, nor to recommend specific products as treatment of disease or to provide diagnosis, care, treatment or rehabilitation of individuals, or apply medical, mental health or human development principles. The devices discussed herein have not undergone evaluation and/or testing by the United States Food and Drug Administration or like agency of any other country. Risks which might be determined by such testing are unknown. The information on this site is not a substitute for medical or veterinary advice.
Additional Notice: These devices are sold only for the experimental use of killing microbes in water. Any other usage is considered to be off-label and such usage is at the discretion of the user. This is not a Medical device and is not represented as such.

Para Systems, Inc.
416 Dobbins Rd.
Boaz, AL 35956 USA
All rights reserved.

host2